When you leave your office, you decide to go shopping in your favorite stores. This little detour with your electric bike will do you good and allow you to relieve the accumulated stress.
After 2 hours of shopping, you are happy with your shopping bags, ready to go home to show your sweetheart your finds. But damn, in your haste, you omitted a detail: you are not in the car, but with your bike!
How do you go home with 9 bags and a bike that isn't designed to carry loads?
These are the times when you think it would be handy to be able to transform your electric bike into a cargo bike.
In this article, we will show you a wide range of accessories to install on your bike to make it a real electric cargo bike.
Bicycle Load Trailers
Rear bicycle trailers are presented as a mid-size box with wheels. They have the advantage of being removable and in a quick and easy way to transform your bike into a transporter.
With a lower center of gravity, regardless of the model chosen, the trailers are always very stable and guarantee the safe transport of goods and people.
Attached to the bike thanks to a metal hook and a safety pin, the trailer is attached either to the rear wheel, to the rider's seat, or even to rear support. Before choosing your bike trailer, several criteria should be taken into consideration:
What are you going to transport? The trailer will not have the same characteristics depending on what it will have to withstand. Heavy industrial equipment will require a very sturdy trailer equipped with shock absorbers, whereas if you are only moving light boxes it may not be useful.
What total loaded weight? It is important to calculate the maximum mass that your trailer will have to support. It will depend on its size and also the addition of electric assistance to your bike. You will find all the useful information on this type of bike here.
The usefulness of a universal hitch: this type of hitch is really practical because it adapts to any type of bike.
Single Wheel Load Trailers
They are the least bulky trailers and the easiest to tow. Here are their main characteristics:
Compact: single-wheel trailers are barely wider than bicycles.
Limited cargo space.
Robustness: their small size does not allow them to withstand too great a load.
Safety: it is essential to secure the load on the trailer with straps.
Space-saving: once dismantled, the trailer fits very easily in a corner of your house. Some folding models from the electric bike manufacturer with a capacity of 130 liters and 60kg of supported load are even transportable in a backpack.
Two-wheeled Load Trailers
This model of trailers is really robust and specially designed to support large masses. There are many kinds, depending on how you want to use them.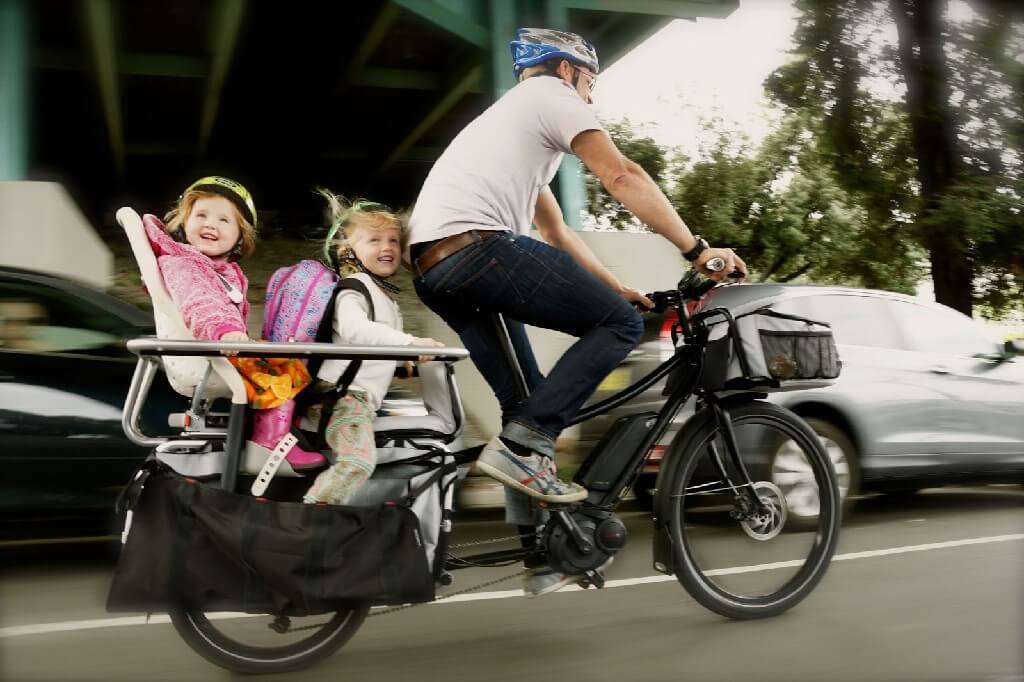 Bicycle Trailers for Transporting Children
Your children are the most precious "cargo" you have to carry. So don't take your family's transportation lightly. Child seats, which are difficult to install, uncomfortable, and insecure, should be avoided.
The trailer is a very efficient solution. Spacious, comfortable, stable, and safe, it really constitutes a reassuring means of transport for you and your children. No risk of losing balance, since its center of gravity is very low. Wearing a helmet for everyone, however, remains recommended.
By having a rearview mirror, you can keep an eye on your "precious cargo" while driving. For the simultaneous transport of several children, some bicycle trailers have seat belts. Models designed for young children also exist on the market.
If in addition to transporting your children you want to be able to move heavy equipment and loads, taking a cargo bike rather than a trailer may be a good choice, please take a look at our classic KK6010 electric cargo trike.
Pet Trailers
Don't despair if you run out of kids to transport, there are pet trailers too. Mainly used for dogs, these secure trailers allow you, for example, to go with your companion outside the city or to the park for a walk.
Less comfortable than the children's models, they are still equipped with shock absorbers, bumpers, windows with mosquito nets. And because carrying a German Shepherd, or a Chihuahua, is not the same thing, the models vary depending on your pet's weight. So take the time to check that the chosen model is suitable for the stature of your animal.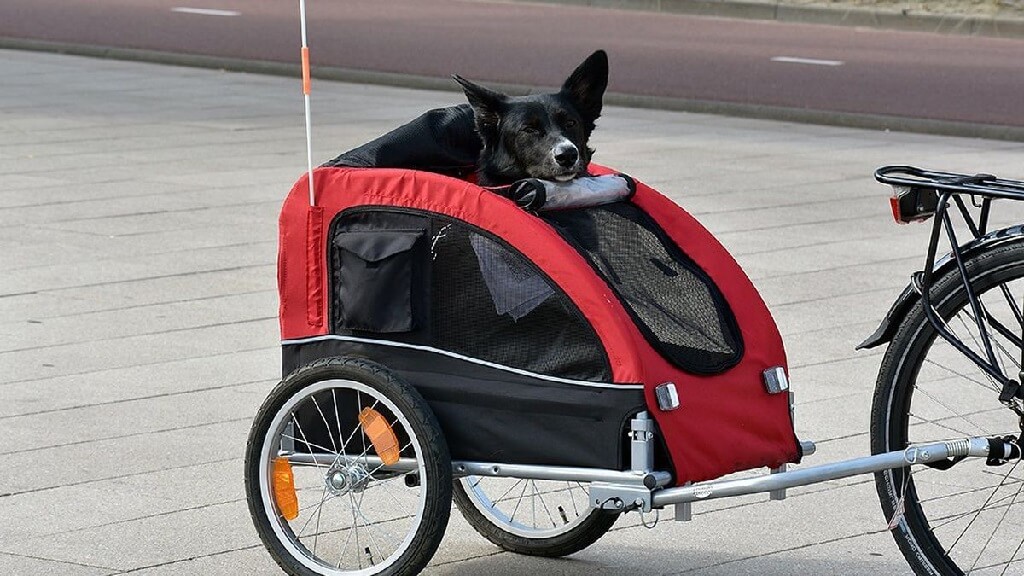 Front Luggage Rack
With their metal structure and their attachment directly to the bike wheel with a connection on the handlebars, these racks are very stable and allow good weight distribution.
This model measures 30 x 30 cm, supports up to 15 kgs, and includes a front luggage rack, and all the small fixing material (washers, nuts …) but not the retaining straps.
Rear And Front Baskets for Bicycles
Essential accessories for city bikes, the baskets are very easy to install on the front or back of the bike. Their small space perfectly accommodates handbags, backpacks, and small luggage.
Made of wicker or metal, these baskets can stay on the bike during a stop. Some sports bikes do not have a rack attachment system, so it is important to check before buying a rear basket that your bike is designed for this purpose. You will find other solutions to adapt your bike below.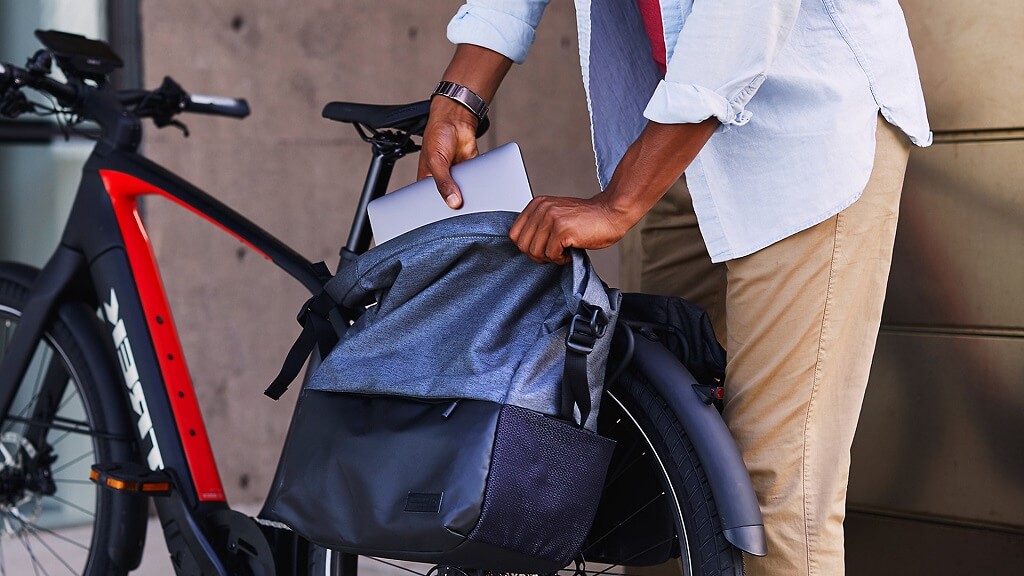 Bicycle Bags
Very practical for bringing back your purchases, your supplies, and your personal effects during a long bike trip, the bags are firmly attached to the vehicle. Generally waterproof, they come in various sizes and materials (leather, synthetic, etc.) and have numerous compartments for easy storage.
Handlebar Bags
Of all sizes and shapes, these accessories can take the place of classic baskets. Be careful not to overload the handlebars!
SaddleBags
Some saddlebags are very practical because they can be easily disassembled and then carried as a backpack if you go on a hike. Practical for storing small, light objects (keys, wallet, laptop, etc.) or a first aid kit, these saddlebags will be appreciated for daily trips or weekend getaways.