In a period of crisis like the present one, developing a chain or a street sales franchise could be a developable idea with a very low investment. A tricycle for itinerant sales, is a Micro company that produces income, but has the enormous advantage of generating very limited costs, and enjoys many tax benefits. In some cases, it can generate almost as much profit as a shop but requires much lower investment, and above all the advantage of flexibility, that is to adapt to seasonal trends, changing the type of sale.
Our KK6009 ice cream tricycle is the most versatile tricycle in terms of equipment. It is suitable to act as a mechanical base for heavy industrial drying equipment such as ice cream carts, insulated chests or refrigerators, auto-shops for itinerant sales both of food what else. Its capacity is 3 quintals and, despite its size, thanks to the 500W high-speed brushless motor and Shimano 6 speed system, it is very light in pedaling.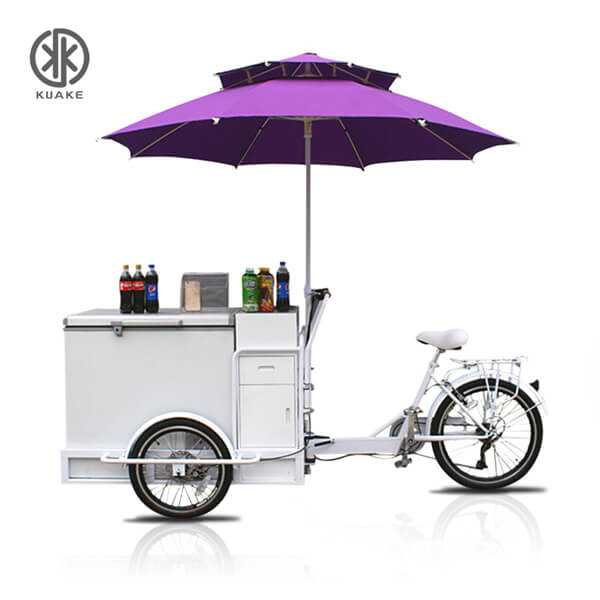 There are already several companies that produce pastry and ice cream shops that have used our refrigerated cargo tricycle. The KK6009 cargo trike also lends itself to the preparation of carts for the sale of crepes, sale of drinks and sandwiches, trolleys for street vending of roasted chestnuts, hot dogs, smoothies, and fresh fruit, and 100 other ideas.
Our KK6010 3 wheel electric cargo bike is also becoming a passion among mothers who have to take their children to school and carry their shopping, and also is a means of transport suitable for all ages. With the advantage that the electric cargo bike has a higher weight capacity, having a very sturdy frame.
The electric cargo trikes are simple to set up for work, and with a little passion for "Do It Yourself", you can get great satisfaction in customizing them. They can also solve the problem of transporting disabled people, for example by setting up the front loader so that it can safely accommodate a person sitting directly on their wheelchair, or on a front bench.